– Processing diagram for DITA Open Toolkit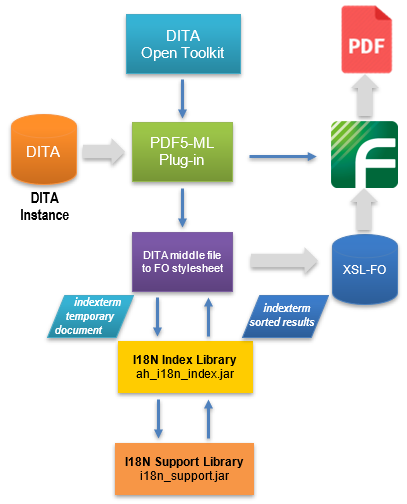 The DITA Open Toolkit (DITA-OT) is an open-source publishing system for publishing XML instances written in DITA.
PDF5 is a sample DITA-OT plug-in developed by Antenna House. It implements most of DITA 1.2 index features and outputs PDF using Antenna House Formatter.
I18n Index Library plug-in is an independent DITA-OT plug-in that enables multiple DITA-OT plug-ins to use the I18n Index Library feature.
– Supports 50 language indexes.
Arabic, Bulgarian, Catalan, Czech, Danish, German, Greek, English, Spanish, Estonian, Persian (Farsi), Finnish, French, Hebrew, Hindi, Croatian, Hungarian, Indonesian, Italian, Icelandic, Japanese, Kazakh, Khmer, Kannada, Korean, Lao, Lithuanian, Latvian, Malay, Burmese (Myanmar), Dutch, Norwegian, Polish, Portuguese, Romanian, Russian, Sinhala, Slovak, Slovenian, Swedish, Swahili, Tamil, Teglu, Thai, Tagalog, Turkish, Ukrainian, Vietnamese, Simplified Chinese, Traditional Chinese
– Supports derivatives for language codes.
NOTE: The corresponding language codes for supported languages are ar, bg, ca, cs, da, de, el, en, es, et, fa, fi, fr, he, hi, hr, hu, id, it, is, ja, kk, km, kn, ko, lo, lt, lv, ms, my, nl, no, pl, pt, ro, ru, si, sk, sl, sv, sw, ta, te, th, tl, tr, uk, vi, zh-CN, zh-TW
General element sorting function
Sorts any kind of elements
I18n Index Library has one more class named jp.co.antenna.ah_i18n_general sort. You can use static method of this class for sorting any kind of elements.
The sort key should be supplied by @sort-key and @sort-as attribute of the target element.
– Differences between <xsl:sort> and I18n Index Library
By calling static method of jp.co.antenna.ah_i18n_general sort class you can group sorting results by @group-key attribute that library returns.
Language specific grouping cannot be done with standard <xsl:sort>.