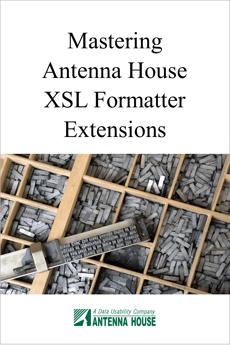 Antenna House is happy to announce our newest publication and the initial release of Mastering Antenna House XSL Formatter Extensions.
This guide features a variety of sample documents that can be formatted using AH XSL Formatter extensions. These extensions were created over many years as a response to our customers suggestions. They allow for satisfying publishing requirement beyond what is possible just using the properties and elements from the XSL standard.

Free download available
Learn About AH Formatter
AH Formatter is the most powerful automated PDF publishing software and the only one of its kind. It is known for XSL-FO formatting in the documentation industry used for XML, DITA, and S1000D. Over the years, AH Formatter has been expanded with the capability to transform HTML into properly formatted documents with CSS stylesheets.
So whether your company wants to use XSL-FO or CSS to format your printed documents, we've got you covered! Try our 90-day free trial.